Railway after Covid-19. A shift that will change the railway industry forever.
The pandemic is accelerating the behavioural shift of our commuting habits, faster than we expected. Transport companies have two choices: either react fast in shaping their communication and business strategies, or be left behind.
The mobility limitations we are facing nowadays are significantly affecting society on a behavioral level. The travel industry is certainly among the segments that have been affected the most by the pandemic. Answering to the new needs of society can be overwhelming – however we believe that along every challenge comes a great opportunity.
Let's analyse together what this means for the railway sector. 
"The Covid-19 crisis has had a seismic effect on commuter habits, with the number of rail journeys falling to its lowest since the mid-nineteenth century. With many workers furloughed, working from home or taking their cars, the impact on ticket sales – and therefore on the ability of the train operators to continue providing a service – has been so disastrous that the government has had to introduce emergency funding to keep trains running."(1)
 At the early stages of the pandemic, railway operators were receiving funding to be able to keep running. However, in Europe the drop in revenues accounted for up to 90% with an expected EUR40bn shortfall in farebox income causing railways to be one of the most heavily impacted industries in the past year. (2)
Homeworking, social distancing and mobility restrictions all together caused peak hours to be significantly lighter and people going to work only a few days a week or even a few days a month, instead of everyday. Therefore, not only business journeys, but, as we already know, also simple day-to-day commuting has been severely impacted during the pandemic.
The Challenge
The shift in travellers' behavior towards commuting is not sudden, but a worldwide trend which has been only accelerated by Covid-19, according to the chief executive of UK transport non-profit group Campaign for Better Transport. (full research here)
"People are less likely to be commuting to work 5 days a week – and the shift just happened faster".
The behavioural shift, accelerated by the pandemic which moreover caused a decrease in revenues on ticketing is pushing the railways sector to a necessary reassessment of their business strategy. 
But what are the changes we can expect?
Communication is and will be of key importance
Railways all over the world are supporting the government with the communication to passengers, proving this to be one of the key activities to focus on in order to stay relevant and maintain a market share.
For example, in July2020 - @ScotRail announced that all of those passengers who were looking for a job were given two free tickets a month to travel to job interviews and a whole free month after they secured a job. This move not only was significant to establishing a stronger relationship with customers but also to acquiring new ones.(3)
Focusing on communication and brand by giving real value to the passengers is one very efficient long term strategy that railway operators around the world are adopting in order to answer to the market demand. 
If you're out of work, we're offering two free tickets per month for travel to interviews – as well as a free one month ticket once you secure a job.

 — ScotRail (@ScotRail) July 22, 2020
Shift in product strategy
The re-evaluation of the ticketing strategy of peak and off-peak fares is one of the most discussed topics in the reassessment of post-covid railway strategies. For example, in Japan, train operator JR East is considering the feasibility of adjusting its fare system based on traffic volumes and the creation of a loyalty program, where passengers who avoid peak hours are rewarded with sales and other bonuses.
Transport companies are therefore expected to create offers that fit the necessities of the new market trends. Weekly ticketing offers are considered being transformed into seasonal flexible tickets to allow people to travel to their job as per their needs. 
"Part-time season tickets would encourage people currently not travelling to return to the trains, thereby increasing revenue," says Tuohy, from Campaign for Better Transport. "There's a real danger that if season tickets for people who want to commute part-time aren't introduced soon, passengers will abandon trains altogether and take to their cars, with disastrous consequences for traffic levels, air pollution and the environment." (4)
It is of key importance not only to react to what's happening in the world, but to react fast enough to be prepared for the moment when restrictions will be completely lifted and people will be expecting transport companies to provide an offering in line with their new needs.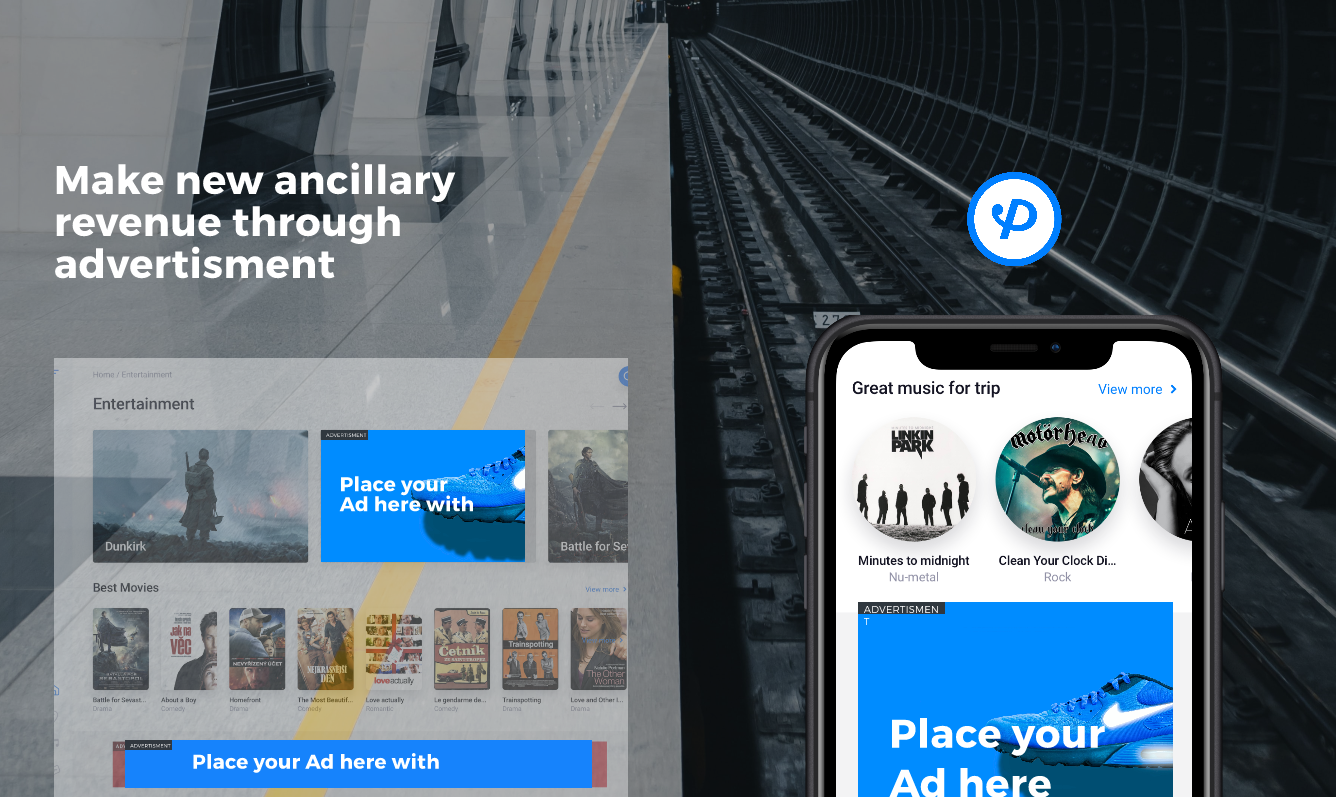 New ancillary revenue streams
The new reinforced trend of purchasing products online and preferring contactless operations creates a never-seen-before opportunity for railway operators not only to introduce new revenue streams to their business models, but also to provide their passengers with additional comfort and modern services. Integrating to Infotainment Platforms modules such as an Advertisement Systems or E-commerce is an easy way to improve profits by being the channel to promote 3rd party services and, at the same time, making the offering more attractive to passengers, for a seamless planning of their journey.
With revenues from commuting so depressed it is now an ideal time to re-evaluate obsolete strategies and introduce new systems enabled by smartcards and smartphones, and get ready to welcome passengers back to public transport in a safer and modern reality.
From helping companies with their new strategies, to implementing software and hardware as well as providing impeccable support, we at Passengera are ready to help you make the quality shift and prepare you for the after-Covid reality. Get in touch with our sales team to find out how we can help: sales@passengera.com
Sources:
(1) https://www.railway-technology.com/features/rail-ticketing-covid-19/
(2) https://mediarail.wordpress.com/the-railways-after-covid-between-challenges-and-opportunities/
(3) https://www.scotrail.co.uk/about-scotrail/news/fast-track-work-scotrail-alliance
(4) https://www.railway-technology.com/features/rail-ticketing-covid-19/